Diverse Customer Base
EPIC's customer base is extensive, broad and diverse. A sample of EPIC's current customers include:
Commercial Airlines
American, Alaska Air, ANA, British Airways, Delta, KLM, Korean Air, Southwest Airlines, Singapore Airlines, United Airlines
Manufacturers
Boeing, Cessna, General Dynamics, Honeywell, Lear, L3
Government
Canadian Defense, United States Defense Logistics Agency – serving all branches of the U.S. Armed Services, FAA, USPS
Fractional Business Aviation
NetJets, FlexJet, Flight Options
Corporate Flight Departments
Boeing, Coca Cola, GE, Intel, Nike, Starbucks
Fixed Base Operators
Hundreds of branded and unbranded FBO's throughout North America
Cargo Airlines
Atlas Air, FedEx, NCA, UPS, Volga-Dnepr Airlines
Helicopter Operators
Columbia and Erickson
Agribusiness operators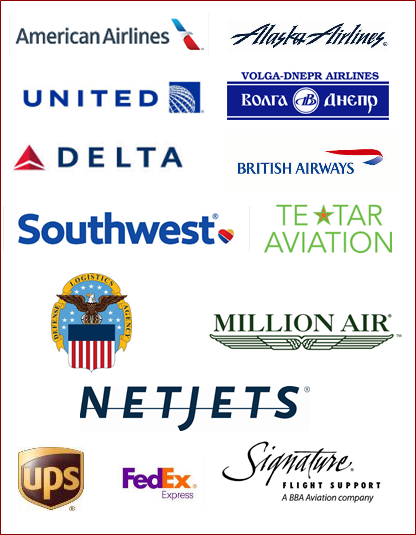 News & Press
SkyNRG, CAO and EPIC Fuels supply Singapore Airlines to operate its first sustainable biofuel flight
May 3, 2017 – On Singapore Airlines' (SIA) 70th anniversary, the carrier operated its first flight on sustainable biofuel. The morning flight departed from San Francisco Airport on May 1st and arrived in Singapore the next day. SIA partnered with the Civil Aviation Authority of Singapore (CAAS) to enable this initiative of 12 biofuel flights […]
Testimonials
The folks at EPIC are really diligent. They listen and understand my individual needs. After 6 solid years I trust them to exceed my expectations.