Diverse Customer Base
EPIC's customer base is extensive, broad and diverse. A sample of EPIC's current customers include:
Commercial Airlines
American, Alaska Air, ANA, British Airways, Delta, KLM, Korean Air, Southwest Airlines, Singapore Airlines, United Airlines
Manufacturers
Boeing, Cessna, General Dynamics, Honeywell, Lear, L3
Government
Canadian Defense, United States Defense Logistics Agency – serving all branches of the U.S. Armed Services, FAA, USPS
Fractional Business Aviation
NetJets, FlexJet, Flight Options
Corporate Flight Departments
Boeing, Coca Cola, GE, Intel, Nike, Starbucks
Fixed Base Operators
Hundreds of branded and unbranded FBO's throughout North America
Cargo Airlines
Atlas Air, FedEx, NCA, UPS, Volga-Dnepr Airlines
Helicopter Operators
Columbia and Erickson
Agribusiness operators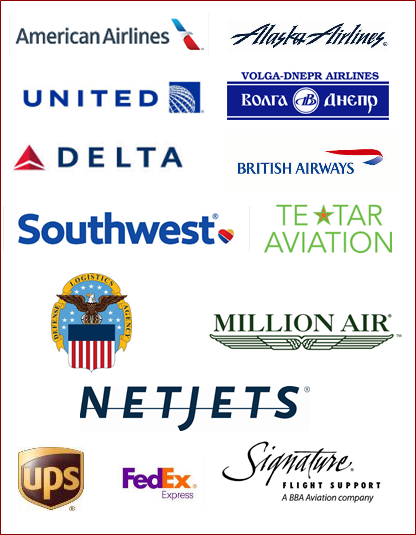 News & Press
EPIC Fuels Applauds FBOs and Fuel Transport Partners Supporting Disaster Relief Efforts
IRVING, TX –  As relief efforts continue in Texas and first responders ramp up in preparation of hurricane Irma's landfall, EPIC's supply and dispatch teams are working around the clock to ensure fixed-base operators (FBOs), government agencies and commercial airlines are supplied with fuel. In addition to the hurricane relief and preparation efforts, the company […]
Testimonials
The folks at EPIC are really diligent. They listen and understand my individual needs. After 6 solid years I trust them to exceed my expectations.